Brand News:
A Letter from the
D'Addario Orchestral Team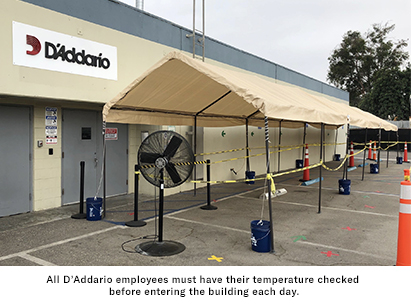 Dear Artists,
We are kicking off the September issue of our monthly The D'Addario Orchestral Artist Corner to announce that we are back in the office and ready for whatever the next few months have to bring!

Our Orchestral team was furloughed in late March when our factories in New York, California, and Houston were closed due to COVID-19. Each factory was able to reopen by the end of May and have spent the past few months playing "catch up" in order to fulfill numerous backorders and build inventory. The incredible factory team in New York has swiftly implemented new safety and social distancing protocol in order to keep everyone at the factory safe. We are committed and focused on replenishing our inventory levels as quickly as possible and building a healthy inventory reserve in case our factories are forced to shut down again later this year.
Just like you, our plans for 2020 have been turned completely upside down, but we are trying to make the best of this time. We will be spending the next few months focusing on generating artist content to feature on our social media channels, optimizing our data management systems, and continuing development work on upcoming product launches. You all have been in our hearts and minds as we know that you too are busy making changes to plans and establishing a "new normal."
Our best wishes to you and your loved ones,
Your D'Addario Orchestral Team
Liz Benoit Crew-Orchestral Product Manager
Richard Smedley-B&O Product Specialist
Andrea Harrell-B&O Product Specialist, Woodwinds & Orchestral Artist Manager
andrea.harrell@daddario.com

Steve Lobmeier-Artist Relations Administrative Specialist
Steve will be handling any issues that you have with your artist account, B2B, artist orders, and order returns.