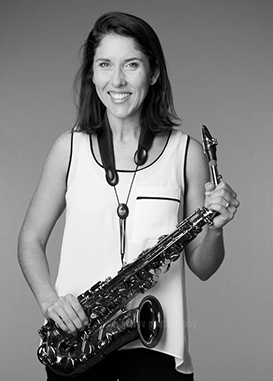 Noelle Fabian Dragon is a Texan-born, acclaimed saxophone/woodwind specialist, educator and performer. Known for her theatrical wit, musical creativity and upbeat personality, Noelle is one of the most sought out all-around entertainers in the west coast.
She holds degrees from Southern Methodist University and The University of North Texas where she studied multi-instrumental music performance and music education. Performance Credits include: The Disneyland Band, How The Grinch Stole Christmas (National Tour), Fort Worth Symphony Orchestra and The Dallas Winds. She has also served as a guest clinician and soloist across the country.
Teaching has always been a strong passion for Noelle. In Texas, she maintained and cultivated large saxophone/woodwind studio at award-winning Flower Mound High School (2015 Midwest Clinic invitee, 1st place BOA regional competition) and its feeder programs. Many of Noelle's students have gone on to win spots in All-State bands and highly competitive college scholarships. In 2018, she took her love for music education, combined it with technology and created The Monster Musician Reader- an innovative, interactive sight-reading game/phone app that builds music literacy. With over 10 years of experience working with beginner through advanced students, Noelle maintains a busy schedule as a clinician and consultant for high-achieving collegiate and grade school music programs in California and Texas.
Clinic Philosophy
Noelle believes music education is not means to an end. The skills acquired through music learning translate into better grades, better students, and a better society as a whole. During sessions, she likes to focus on tone production and building healthy and efficient practice habits. She also enjoys engaging students by integrating technology into her teaching as much as possible.