EVANS Drumheads partners with Sunhouse Technologies to Reimagine Sensory Percussion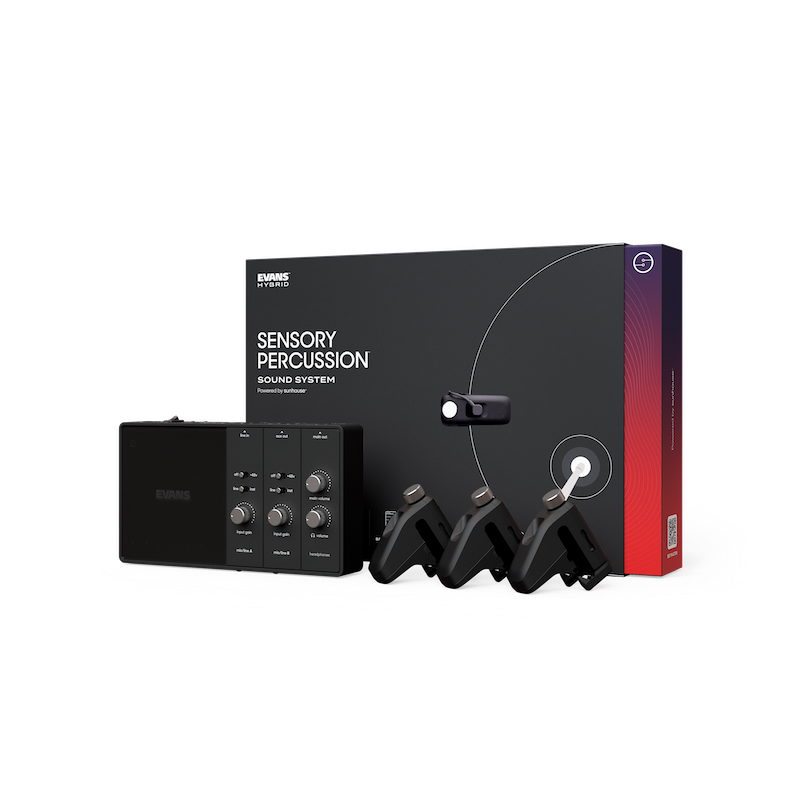 FARMINGDALE, New York — EVANS Drumheads, maker of the most technologically advanced drumheads on earth, is thrilled to announce a new partnership with Sunhouse Technologies Inc. Building upon Sunhouse's foundational Sensory Percussion technology, the joint venture features completely redesigned versions of both the hardware and software, giving drummers even more power, control, and expressive possibility than ever before.

Originally introduced by Sunhouse in 2015, this patented technology lets drummers turn their acoustic drum kits into powerful controllers for electronic music-making. Using sensors—not triggers—along with proprietary machine learning, Sensory Percussion dynamically maps each drumhead's surface and tracks each hit. With up to ten programmable zones per head and virtually limitless ways to control and manipulate them, drummers now have a way to naturally express themselves with electronic tools like samples, effects, and MIDI.
The new EVANS Hybrid Sensory Percussion Sound System is an entirely fresh take on the original, redeveloped from the ground up to give the drummer more reliable, usable, and purpose-built hardware, along with a reworked software experience to power an ever-expanding universe of discovery and creativity.
"Since 2015, we've continued to improve and grow Sensory Percussion," says Tlacael Esparza, Co-Founder of Sunhouse. "To take it to the next level, we needed a partner with both manufacturing expertise on a big scale and a deep knowledge of the drumming community. The partnership with D'Addario (EVANS) is perfect for two family companies combining our expertise to not only reimagine the world of Sensory but create the future of percussion."

With this expansion into electronics, EVANS is establishing EVANS Hybrid—a new division focused on imagining and building the future of drumming, developing technologies that bridge the gap between acoustic and electronic percussion.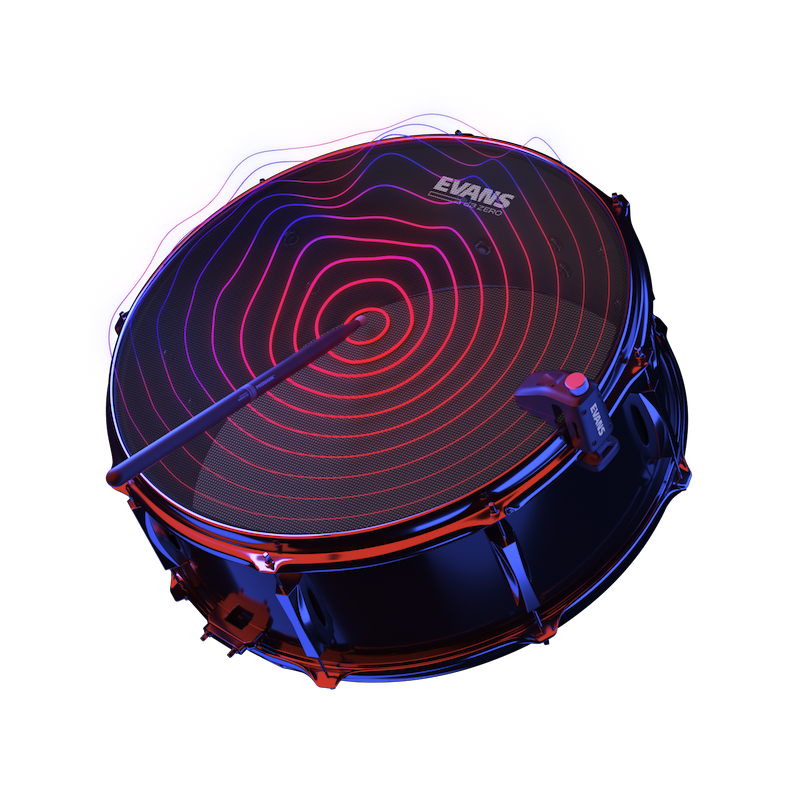 "For more than half a century, EVANS has been innovating and perfecting the acoustic drumhead to push the possibilities and dependability drummers have available to them," says Jim D'Addario, Chief Innovation Officer. "Moving into electronics was an inevitable and natural progression of that mission, but it was not until Sensory Percussion that we felt truly inspired to move forward. Given all this, we found Sunhouse to be the perfect partner for breaking into electronic drumming."

The EVANS Hybrid Sensory Percussion Sound System comes in a beautifully designed package consisting of the following:
1. New Sensory Percussion Software, completely redesigned to be more seamless, intuitive, and musical—eliminating as many barriers to creativity as possible, on stage or in the studio.
2. The EVANS Portal audio interface, designed to work specifically with the software and proprietary sensors. It features seven sensor inputs, a built-in microphone, two combo mic/line/Hi-Z inputs, and a variety of headphone, aux, and stereo outputs.
3. Three Drum Sensors, built to be sleeker, more durable, and easier to set up and remove. Each sensor tracks speed, velocity, and timbre across ten distinct programmable zones. The new sensors also feature tour-friendly, 3.5 mm cables over heavy XLRs.
4. Additional items include a pack of twelve pickup elements, three 12 ft TRS cables, one power adaptor, one USB-C cable, EVANS EMAD Bass Drumhead adapter, and special Sensory Percussion ProMark ActiveGripTM Drumsticks.

"Sensory Percussion has been a game changer for me," says Glenn Kotche, drummer/percussionist for Wilco. "It's enabled me to realize so many ideas that I never knew how to implement otherwise. I'm finally able to use the drumkit not just as an instrument but also as sort of a mission control center to create any audio-visual world I can think of."

A new sonic universe awaits exclusively on daddario.com beginning April 5, 2023 and available at sweetwater.com beginning May 2023. Learn more at www.daddario.com/spss.

###

Media Contact - D'Addario & Co, Inc.
Natalie Morrison (natalie.morrison@daddario.com)
https://www.daddario.com

Sunhouse Technologies, Inc.
Sunhouse is a technology company headquartered in Queens, New York, founded by three siblings from Los Angeles. Its mission is to create products that empower musicians. Sunhouse uses novel software designs that focus on the musician's perspective and leverages the latest in machine learning and signal processing to create systems that listen and respond. Its first product, Sensory Percussion, was successfully launched on Kickstarter and grew to attract a community of some of the best drummers, producers, and composers in the world, inspiring a new class of solo drummer who record and tour using Sensory Percussion.
press@sunhou.se
https://www.sunhou.se