D'ADDARIO RECEIVES GRANT FOR FACE SHIELDS
FARMINGDALE, New York – On Friday, October 23, Lieutenant Governor Kathleen Hochul visited D'Addario's Farmingdale factory to tour the facility and learn more about the company's COVID-19 Face Shield Initiative. During the height of the COVID crisis, D'Addario, the world's largest musical instrument accessories manufacturer, shut down all normal operations and rapidly converted to producing PPE face shields. New York State and the Empire State Development Corporation recently showed their support for D'Addario's altruistic innovation, awarding the company a $341,000 grant to expand face shield manufacturing operations.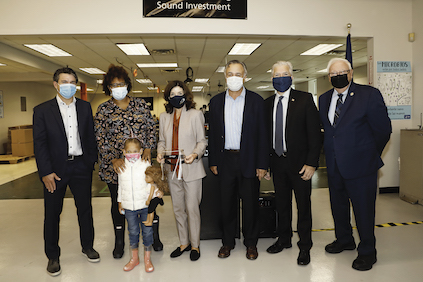 With the grant, D'Addario will build four semi-automated "work cells" to improve efficiency, lower manufacturing cost, and double production capacity — leading to more face shields and additional factory jobs.
Alongside the Lieutenant Governor were members of the press and several local officials, including Babylon Town Supervisor Rich Schaffer, County Executive Steve Bellone, Senator John Brooks, and Assemblywoman Kimberly Jean-Pierre.
"At a time when we were scouring the earth in search of personal protective equipment, New York State's manufacturers like D'Addario answered the call to support our COVID-19 frontline heroes," Lieutenant Governor Kathy Hochul said. "We are proud to support our innovative manufacturers who are stepping up to save lives and are a model for how we build back better for the post-pandemic future."
Switching from guitar strings and drumheads to PPE almost overnight was no simple feat. After D'Addario was forced to close its factory doors in April, a team of engineers, led by Chief Innovation Officer Jim D'Addario, worked meticulously to develop these face shields from the clear film used to make the Evans G2 drumhead. Since D'Addario had previously produced certain physical therapy products through its FDA-registered brand "Dynatomy," the team was able to develop a prototype in just three days.
To date, D'Addario has sold almost 1.5 million face shields — primarily to hospitals and healthcare equipment distributors. However, the face shields have also found their way to local businesses, schools, and even the Detroit Lions NFL team.
"An unprecedented crisis like the Global Pandemic in many ways can define individuals and organizations," said D'Addario CEO, John D'Addario 3. "I could not be prouder of the ingenuity and genuine care of our family of employees at D'Addario in helping those in need of PPE materials. I am equally proud of not only the leadership of NY state in how they have navigated the uncertainty of COVID-19 but also their willingness to partner with companies like ours to truly make a difference in protecting people."


###
Media Contact - D'Addario & Co, Inc.
Natalie Morrison (natalie.morrison@daddario.com)