Show Your Stripes With The New ProMark


FARMINGDALE, New York – Founded over 65 years ago, ProMark Drumsticks prides itself in its unique style and innovation. To celebrate ProMark's individuality and to better serve the diverse tastes and needs of drummers worldwide, ProMark is thrilled to introduce two distinct performance pillars—ProMark & ProMark Classic.
Though each has its own flair and purpose, these new pillars are nonetheless asking drummers all around the world to do one simple thing: Show Your Stripes.



ProMark is the home of our rear-weighted, performance-driven Rebound and Finesse lines, alongside cutting-edge innovations like ActiveGrip and FireGrain.



ProMark Classic is a celebration of the timeless feel, look, and straight-ahead performance of ProMark's golden era, and the home of our front-weighted, power-focused Forward and Attack lines.


Every ProMark stick is Perfected With ProMatch—our proprietary multi-stage weight and pitch sorting process. Wherever you see ProMark, you'll also see ProMatch, assuring players that our process guarantees unrivaled consistency both from stick to stick and from pair to pair.


Weight sorted: Kiln-dried wooden dowels are sorted, separated, and batched together based on model.
Precision Cut: Using precise methods, raw dowels are cut, shaped, lacquered, and treated, yielding fully-formed sticks.
Weight Matched: Finished sticks are matched by weight, adhering to the strictest possible tolerances.
Pitch Perfected: All sticks are matched according to their tuned pitch, averaging a difference of only 9Hz within any model.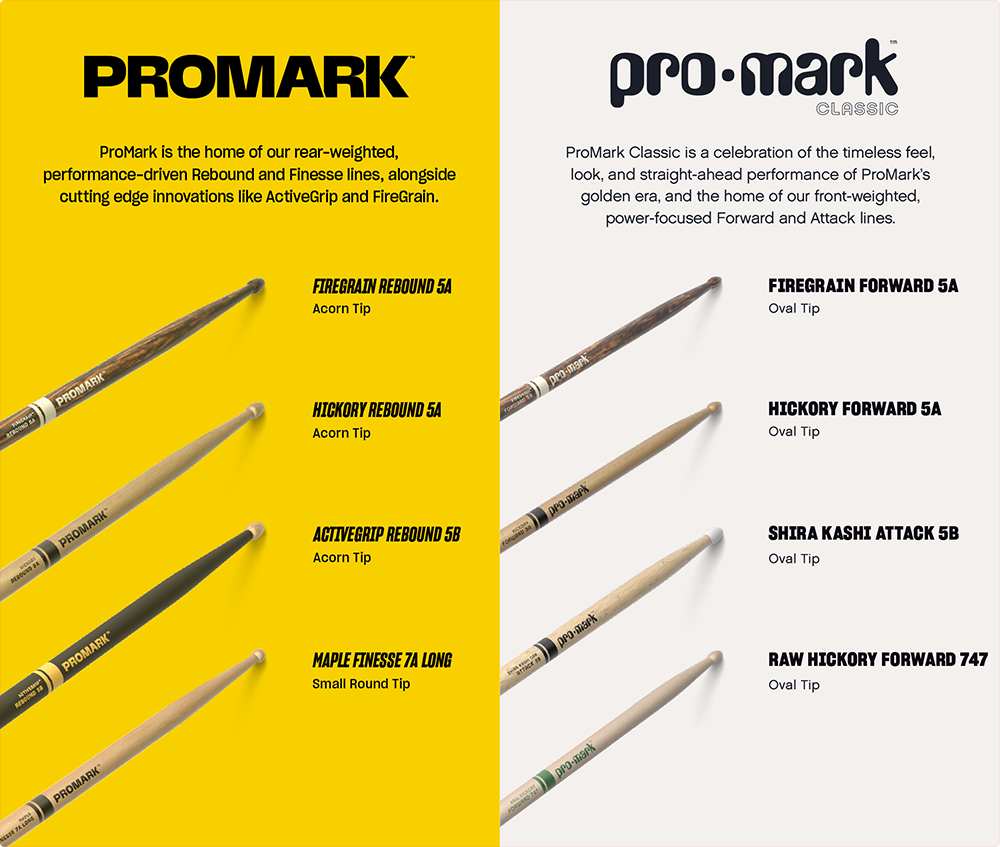 Click here to learn more about ProMark and ProMark Classic.
###

Media Contact - D'Addario & Co, Inc.
Natalie Morrison (natalie.morrison@daddario.com)